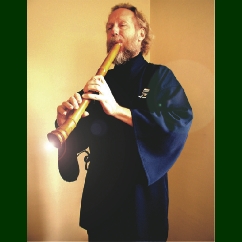 Moonbridge was founded in 1994 as an independent CD label specializing in transcultural projects often featuring shakuhachi in differing musical contexts and featuring releases in both the World Music and New Age categories.
Moonbridge was perhaps the first web site featuring information on shakuhachi, the Japanese bamboo flute. Its early releases featured Larry Tyrrell and Christopher Yohmei Blasdel. In 1998 Moonbridge released Waterlilies, Visions of Monet as a classical fusion project showcasing the shakuhachi in a chamber music setting including harp, viola. cello and classical guitar performing works by Ravel, Debussy and Satie as well as new works by John Carbon and Deena T. Grossman.
Recent releases have featured solo and duo work by Larry Tyrrell and Anne Norman and a limited edition release of a collaboration with Michael Mandrell.