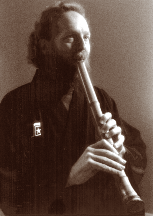 Larry Tyrrell is a player, composer, recording artist and teacher who embodies the concept of transcultural music. First discovering and composing for shakuhachi in the 1970s Tyrrell went on to devote himself to mastering the instrument in the 1980s onward. He studied in Japan with two of the greatest comtemporary masters of the instrument; Miyata Kohachiro and Yokoyama Katsuya.
From 1991 to 1994 he was composer-in-residence with the Okayama Hogaku Ensemble, a performance group spcializing in new music for traditional instruments.
In 1994 he founded Moonbridge, an independent CD label specializing in transcultural projects often featuring shakuhachi in differing musical contexts and featuring releases in both the World Music and New Age categories.
He performs and teaches in the Portland, Oregon and Seattle, Washington region. You can find performance and booking information here.
He brings a broad-based and open approach to shakuhachi teaching gained in his 28 years of playing experience.
Drawing on his knowledge of Kinko, Tozan, Minyo, Dokyoku, contemporary Japanese music and World Fusion with a particular emphasis on Celtic music, he offers an adaptive musical pallette to enable each student to get the most targeted and satisfying shakuhachi experience possible.
Please contact him at (503) 235-5468 or at shakuhachi@moonbridge.com